Women's soccer has grown tremendously in popularity in recent years, and the sport is now home to some of the most talented athletes in the world.
Women's soccer is gaining popularity due to increased revenues from sponsorships, broadcast deals, and merchandising; there is a steadily rising interest in the sport.
The UEFA Women's Euro title match between England and Germany in 2022 was an important milestone for the sport, leading to a surge in fan engagement.
UEFA has created investment opportunities for the National Women's Soccer League (NWSL).
Just like Ronaldo or Messi inspire male fans, rising female soccer stars give young girls and women the power to believe in themselves in the sport.
To know which ones are the most inspiring and currently at the top, here are the top 10 best female soccer players in 2023:
10. Wendie Renard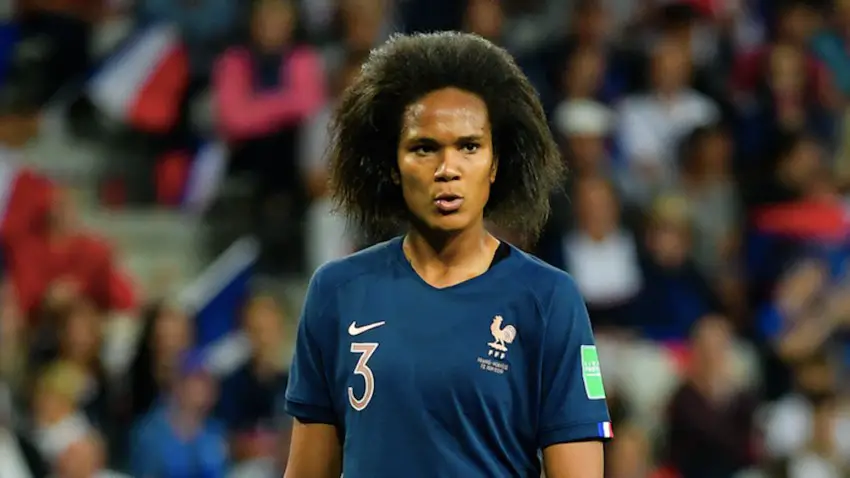 Wéndèleine Thérèse Renard is a French footballer currently playing a central defender position as well as captain for Division 1 Féminine club Olympique Lyonnais and the French women's national team.
One of the most decorated players in the modern female football club, Renard is a goal-scoring defender. She won a record French League 14 titles and 7 European Cups.
She was ranked 3rd position among the top women soccer players in 2020.
9. Catarina Macario
Catarina Macario is a Brazilian-born American professional soccer player who plays as a midfielder for Lyon in the French Division 1 Féminine.
She is currently recovering from an injury (she fell to the ground which hurt her left knee) but had made plans to return for World Cup when she fully recovers.
Catarina began playing football at age four with the local club Flamengo in Brazil, before moving to Brasilia at age seven.
She attended Stanford University, where she played forward for the Women's Soccer team.
8. Alex Morgan
Alex Morgan is an American professional soccer player who plays as a striker and captain for San Diego Wave FC of the National Women's Soccer League.
She became the youngest member of the U.S. women's national soccer team in 2009 and was the first overall pick in the 2011 Women's Professional Soccer draft.
At the 2011 World Cup, she scored in the semi-final against France and won the inaugural NWSL Championship in 2013 with the Portland Thorns. She studied abroad in Madrid and enjoys yoga.
7. Aitana Bonmatí
Aitana Bonmatí is a Spanish professional footballer who plays as a midfielder for Liga F club Barcelona and the Spain women's national team.
She debuted for the first team in the Cup in 2015/16 and moved to the first team squad in 2016.
Aitana has been an international at every youth level and captained Spain to succeed in the 2017 UEFA European Under-19 Championship.
In 2018, she reached the final of the Under-20 World Cup with Spain.
She is a technically gifted attacking midfielder who can tear apart opposing defenses with her dribbling, passing, and shooting.
She is a leader in the midfield with an outstanding personality, ambition, and quality.
6. Lucy Bronze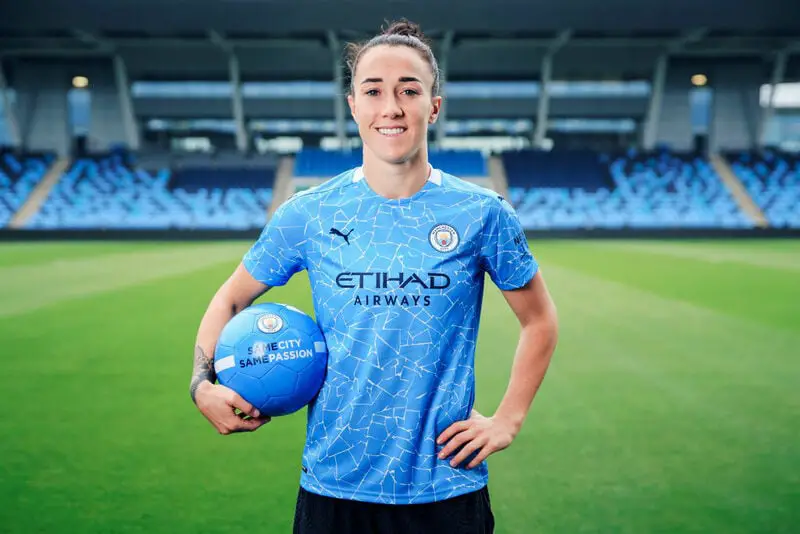 English footballer Lucia Bronze plays as a right-back for Manchester City FC and the England national team. She was named BBC Football BBC Women's Footballer of the Year in 2018 and 2020. 2019 saw her win the UEFA Women's Player of the Year Award as the first English footballer. She is considered by many to be the best female right-back in the world, and was enough versatile to start her senior career in central defence and also as a midfielder at various times for club and country.
5. Dzsenifer Marozsan
Dzsenifer Marozsán is a professional female footballer who currently plays for Olympique Lyonnais (a French club) and the German national team.
She was born in Hungary and raised in Germany, where she followed in the footsteps of her footballer father.
In 2018, she suffered a pulmonary embolism which threatened to end her career, but she has since recovered and is now playing for OL Reign in the NWSL.
4. Vivianne Miedema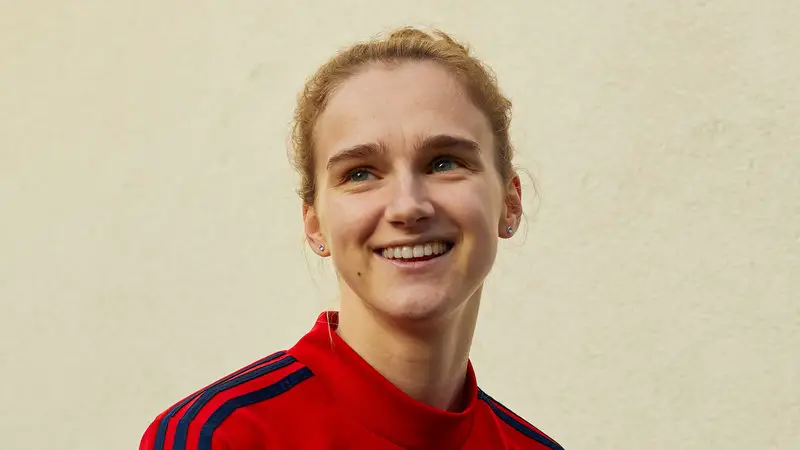 Vivianne Miedema is a famous Dutch footballer who plays for Arsenal in the FA Women's League 2023 and the national team.
She is recognized as one of the greatest strikers in modern women's football, with many awards and accolades.
Miedema is a prolific goal scorer, holding the record for most international goals scored by any player.
She has won multiple awards, including the 2020 London Football Awards and Football Writers Association's Women's Player of the Year.
In 2019, she was named PFA Women's Players' Player of the Year and was nominated for the Ballon d'Or Féminin.
In addition, she has been listed in The Guardian's Top 10 Best Female Footballers in the World twice.
At 24, Miedema set a Women's Super League record by scoring 50 goals in 50 matches, including a hat-trick in a 6-1 win over Tottenham.
3. Sam Mewis
Sam Mewis is an American professional soccer player who plays as a midfielder for Kansas City Current of the National Women's Soccer League (NWSL) and the United States national team.
She was born on October 9, 1992, in Hanson, Massachusetts, and played college soccer for the UCLA Bruins.
Mewis began her professional club career with the Pali Blues in 2013 before joining the Western New York Flash in 2015.
In 2016, she helped the Cinderella team win the league championship by scoring crucial goals in both the Semi and Final.
In 2017, while the Flash franchise was sold and rebranded as North Carolina Courage, Mewis continued to excel with her leadership skills, helping them win the 2017 and 2018 NWSL shield.
She has been a member of the USWNT since 2014 and was part of the 2019 World Cup-winning team.
2. Alexia Putellas
Alexia Putellas is a Spanish professional footballer who plays as a midfielder for Barcelona, which she captains and the Spain national team. She was chosen as Catalan player of the year in 2015 and became the first woman to win back-to-back Ballons d'Or in 2021. She returned to on-ball training with Barcelona in February 2023 after being out of action for almost a year and was seen working out with the club in January 2023.
1. Sam Kerr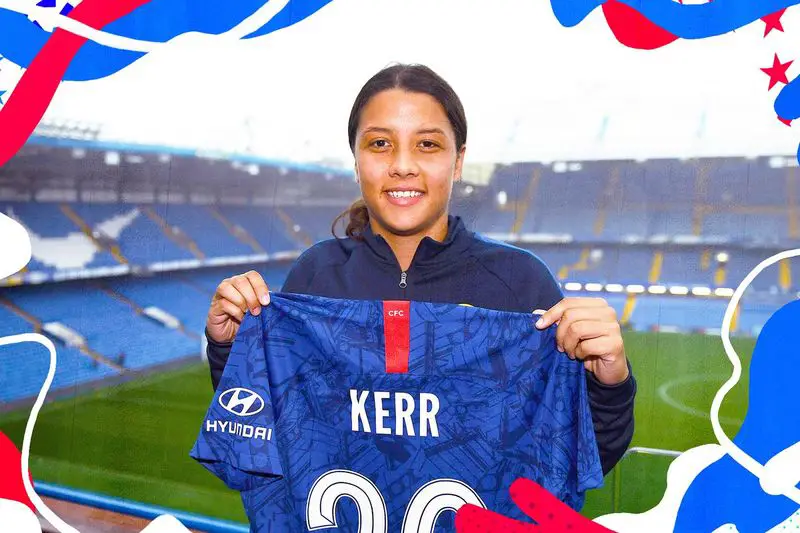 Samantha Kerr is the best female soccer player in 2021 who plays for Chelsea in the English FA Women's Super League.
She's the Australian National Football Team's current captain. Kerr has been the all-time leading scorer in both the National Women's Soccer League (NWSL) and the Australian W-League since 2019.