10. Mickie James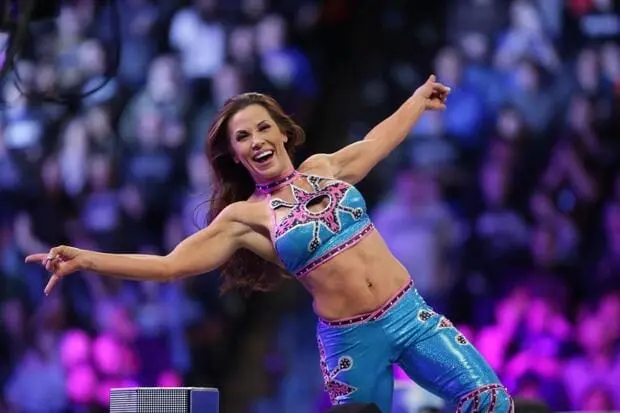 Mickie James is one of the greatest female wrestlers that has ever competed in the ring. Mickie James created a name for herself in the WWE Universe after her debut in 2005. Mickie James is still making waves in professional wrestling, even though she no longer works for WWE. She is a global ambassador for promoting women's wrestling and inspiring women worldwide. One of the best women's matchups was Mickie James vs Trish Stratus at WrestleMania 22. It was unquestionably the first women's WrestleMania match to be remembered as a classic.
9. Chyna
Chyna is the world's ninth wonder. Okay, so the title is a touch cheesy, but the magnitude of its implications in female wrestling is not far off the mark. Chyna is a one-of-a-kind individual who has never been seen before. Although there have been powerful women in the wrestling spotlight before her, Chyna's exposure to such a large audience during her time in the WWF was unique for such a physically intimidating lady. Chyna was the first woman to compete in the Royal Rumble and the King Of The Ring, among many other firsts in professional wrestling (both 1999). Neither of her efforts was successful, but they were significant nonetheless.
8. Asuka
The Empress of Tomorrow has become one of the most popular female celebrities because of her capacity to fascinate an audience. Despite only being with the company for four years, Asuka has already established a reputation for herself by winning the Raw Women's Championship twice, the Smackdown Women's Championship once, the 2018 Royal Rumble once, and much more. Even though she only joined WWE in 2016, Asuka has plenty of wrestling experience, spending more than 12 years in the independent circuit and other promotions. It was evident from the moment she made her NXT debut that the WWE had struck gold. Asuka's tenure with WWE's NXT was impressive, with the wrestler remaining undefeated for nearly a year and a half.
7. Wendi Richter
Wendi Richter was a crucial component of the success of WWE as it grew into a national power in the 1980s. In 1984, her championship match with the Fabulous Moolah drew huge crowds. Richter became one of the most popular female wrestlers thanks to her vital energy and personality. Richter is a former AWA and WWC women's champion. She is a influential performer.
6. Lita
Lita was tremendously skilled, supremely agile, groundbreaking, and a risk-taker. In addition, she is one of the wealthiest wrestlers of all time. She demonstrated that the most beautiful people could also be the toughest. Both inside and outside the ring, she was a trailblazer. It's no surprise that she became famous after seeing her in action. Her matches with Trish Stratus are among the top female games in WWE history. She is a four-time Women's champion and has many other achievements. Lita undoubtedly deserves a place on the list of the best female wrestlers.
5. Becky Lynch
Becky Lynch has risen to become one of the top female wrestlers of all time because of her in-ring abilities and remarkable microphone skills. Becky Lynch, better known by her ring as "The Man," was one of the Four Horsewomen that helped shape the women's division in recent years. The Man created history by becoming the first woman to headline a Wrestlemania event. Becky Lynch made history by defeating Charlotte Flair and Ronda Rousey to win the Raw and Smackdown Women's titles at Wrestlemania 35. Becky's tenure as Women's champion would last for an incredible 399 days. Becky Lynch successfully defended her title against Lacey Evans, Sasha Banks, and many others during her stint as Women's champion. Becky's illustrious reign ended abruptly when she announced her pregnancy and had to renounce her crown.
4. Charlotte Flair
Charlotte Flair, dubbed "The Queen of WWE," is the daughter of WWE superstar and Hall of Famer Ric Flair. She made history as the first woman to compete in the main event at Wrestlemania. Flair is WWE's most decorated woman, having won the NXT, SmackDown, and Raw titles a combined 12 times. She has competed in the inaugural Hell in a Cell and Falls Count Anywhere events for ladies. Flair is on hiatus after winning the 2020 Royal Rumble.
3. Trish Stratus
Trish Stratus, a seven-time women's champion, is indisputably one of the best wrestlers. Trish Stratus rose through the ranks when there was no Divas Revolution. Trish, along with several other female wrestlers such as The Fabulous Moolah and Wendi Richter, helped set the groundwork for today's generation of female superstars. No one could have predicted Trish's career would turn out the way it did when she entered the WWE in the year 2000 as an inexperienced newcomer. Trish Stratus had no prior wrestling experience and worked as a fitness model before her WWE debut. She's also one of the most well-known and attractive divas of all time.
2. Fabulous Moolah
The Fabulous Moolah established the bar for all women who followed in her footsteps. She was unquestionably the best female wrestler for several decades, from the 1950s through the 1970s. Hulk Hogan and Bruno Sammartino are nothing compared to Moolah in terms of long-term success. Her WWE championship reign lasted a whopping 10,170 days. Moolah thrilled spectators like few wrestlers have ever done, combining a well-executed technical technique with a flash of savagery. There has never been a more powerful or iconic female wrestler.
1. Manami Toyota
Manami Toyota is the most talented female wrestler ever, even though Moolah and Trish are more well-known in the United States. During her career, she has racked up a whopping ten five-star matches. Her athleticism is enough to place her among the all-time greats in this sport. She leaps like a cat from the mat to the top rope, gliding as effortlessly as Jimmy Snuka. Toyota is a boiling cauldron of intense emotion. She can captivate an audience. She has excellent strength for someone with such a slight build. She's wrestled a lot of more prominent women and had no problem landing beautiful suplexes on them. Every prospective female wrestler should study her technique.