Table tennis is the same sport as tennis, played on a rectangular table with either a single-player or duo on both sides of the table with a small circular ping-pong handle.
Although less popular than field tennis, some players attained international fame.
Here are the top 10 greatest table tennis players of all time:
10. Ma Lin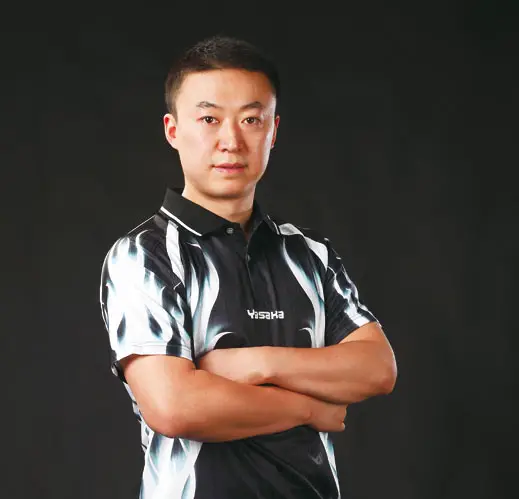 Ma Lin is a remarkable athlete who achieved outstanding success and began playing table tennis when he was 5 years old.
He was recognized for his exceptional skills and was selected to join the provincial team in 1990.
In 1994, he was invited to join the national team, and from that point on, he took part in many matches and won several tournaments.
He is the only male player to have won Olympic Gold in Singles, Doubles, and as a part of his team.
He holds the record for winning the highest number of World Cups for any single male player in table tennis history, having won four World Cups and an Olympic Gold.
After retiring in 2013, Ma Lin continued his passion for table tennis by serving as the head coach for the Guangdong provincial team.
His contributions to the sport on and off the table have been invaluable, and he continues to inspire new generations of players.
9. Ichiro Ogimura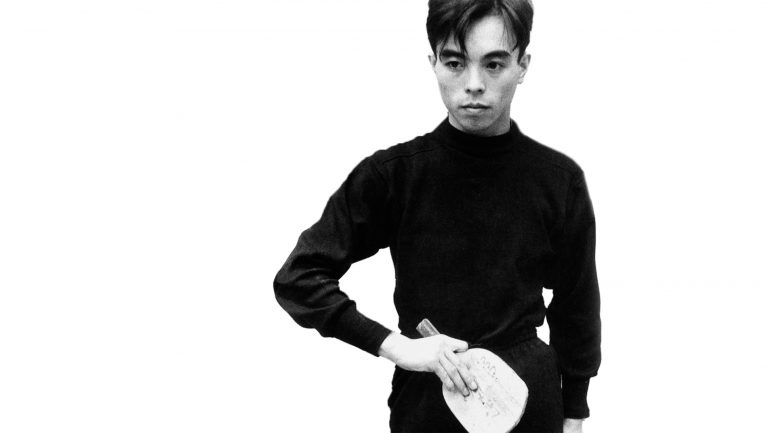 Ichiro Ogimura started playing table tennis from the year 1948.
Ichiro later played table tennis at the school level and has been practicing since then.
Ichiro, in the 1970s, was the key player who played in various Ping pong Diplomacy events and is important to play at the 1991 World Table Tennis Championships as a unified team.
He won 3 English Open Titles, 12 World Championship titles, which include 2 men's singles, and 5 consecutive titles as a team.
After his retirement involved in the Japanese Olympic Committee and Japan Table Tennis Association.
Ichiro's name was inducted into the ITTF Hall of Fame and among the best table tennis players.
8. Deng Yaping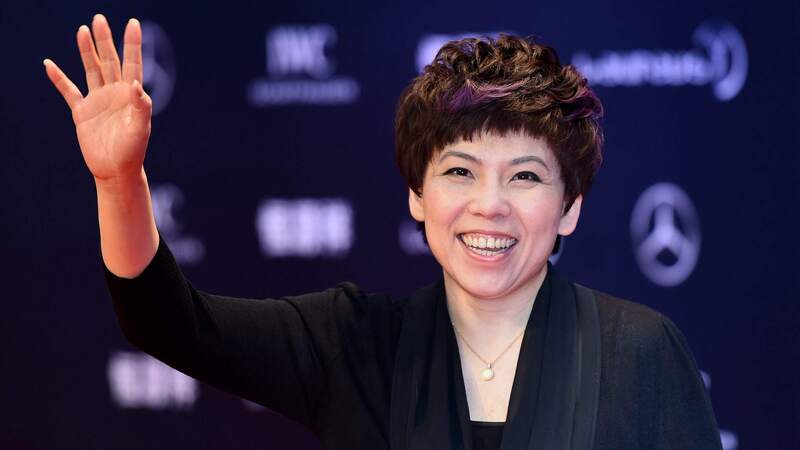 Deng Yaping is regarded as one of the best table tennis players ever.
She started playing tennis when she was 5 years old and won the first national championship at 13.
She played for the national team in 1988. In 1992 and 1996, she won a Single Gold medal and Doubles as well—earned Single and Doubles titles in the 1995 and 1997 world championships.
Deng Yaping had won 18 world championships, including 4 Olympic gold medals, and was the world's No. 1 female table tennis player for 8 years.
She is voted the Chinese female athlete of the century and joined the ITTF Hall of Fame in 2003.
7. Xu Xin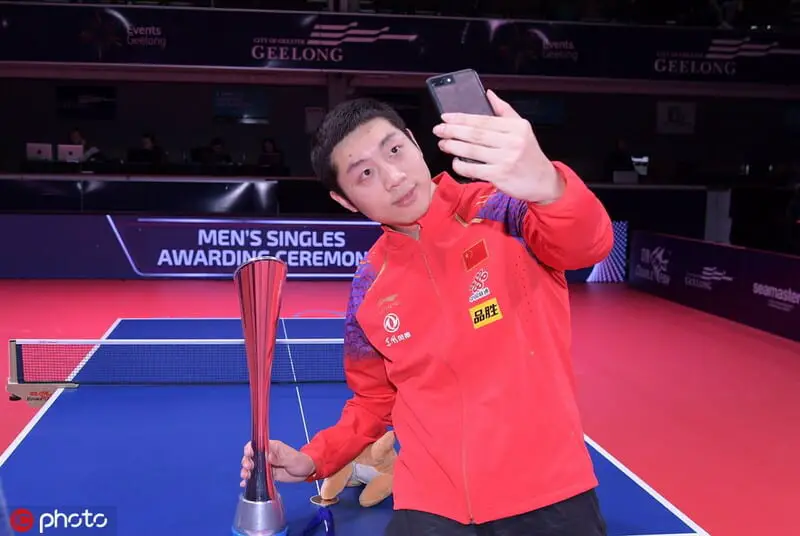 Xu Xin is currently ranked as the World No.2 player in Men's Singles by ITTF. Regarded as a traditional Chinese Table Tennis player who is now playing for his team.
Xu Xin is one of the few shake-hand players and Penhold grip players in China.
Also played for the Shanghai Zhongxing club. He won 17 World Singles titles, 3 Men's Doubles, 2 Mixed Doubles, and won 5 times World Championship in the team event.
In the year 2013, he reached his career-highest World No. 1 Ranking. At the 2016 Summer Olympics, Xu Xin and Ma Long, and Zhang Jike won the men's team title.
6. Zhang Jike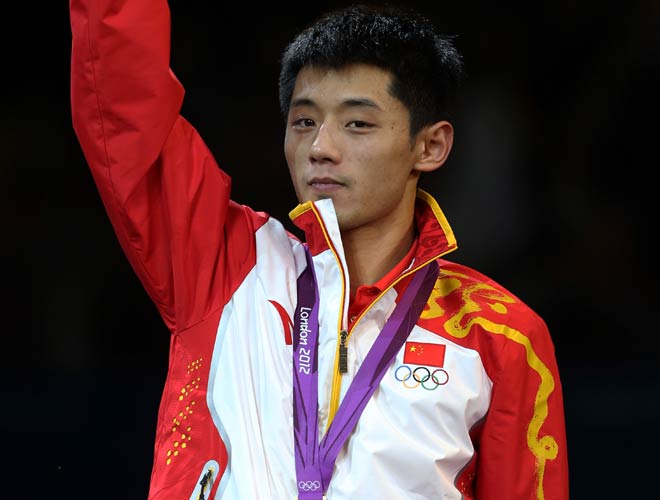 Zhang Jike is among the few famous table tennis players who won all the major titles in table tennis history.
Zhang was the only 4th male player to achieve a career Grand Slam title in table tennis history when he won Men's Singles Gold at the 2012 London Olympics by winning it in 445 days only.
He won his first WTTC 2011, World Cup 2011, and London Olympics 2012 consecutively, which made Zhang the fastest player to win a Grand Slam.
After winning the Grand Slam, Jike also won the WTTC 2013 and World Cup 2014. Presently he is in preparation for the next Olympics.
5. Guo Yue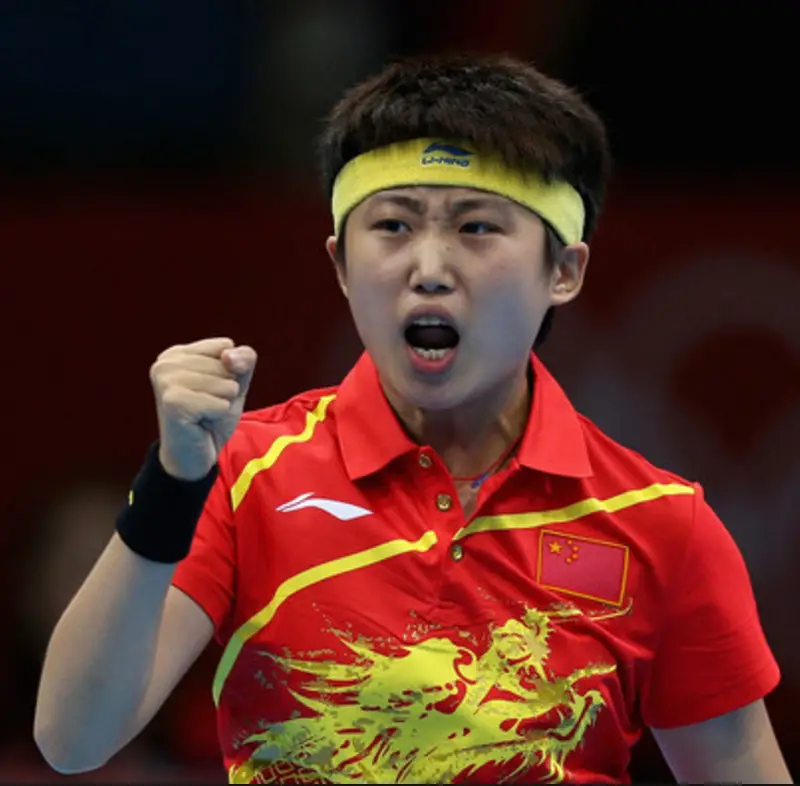 Guo Yue is a left-handed shake and attack player who won 2007 Women's World Championship. Guo Yue had played as a single, mixed, and as well as double.
She won Bronze as a double at Athens Olympics and Beijing Olympics, Mixed Doubles at the World Championship, the 2007 WTTC Single Women's and mixed Double Champion, the 2008 WTTC Women's Team Champion, and the Asian cup.
Because of poor behavior or lack of interest in table tennis, she slowly moved away from the game.
After the 2012 Olympics, he moved to the provincial team and out of the National team.
In 2015, she started studying at Tsinghua University.
4. Wang Liqin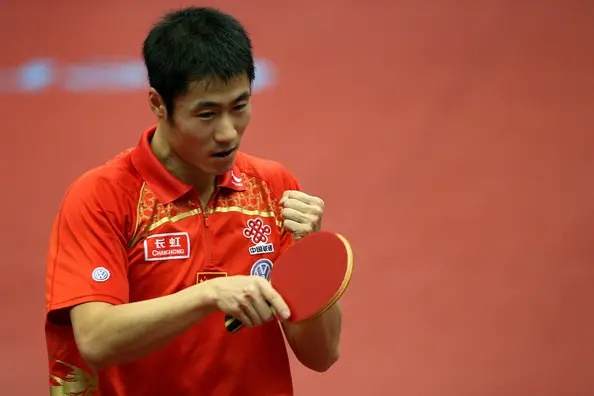 Wang Liqin started playing for the Chinese Men's national team when he was 15 years old in 1993.
Wang has been ranked as World's No.1 greatest table tennis player for 25 months consecutively, which is the second-longest period ever.
In the 2004–06 period, he ranked as the world's top table tennis player.
Wang won his first World Championship in Osaka in 2001.
He also won the Gold in doubles at the 2000 Summer Olympics, the bronze medal in singles at the 2004 Summer Olympics, and the 2008 Summer Olympics.
Made his retirement in 2013, and after that serving as a coach of the Shanghai team in the Chinese super league.
3. Liu Guoliang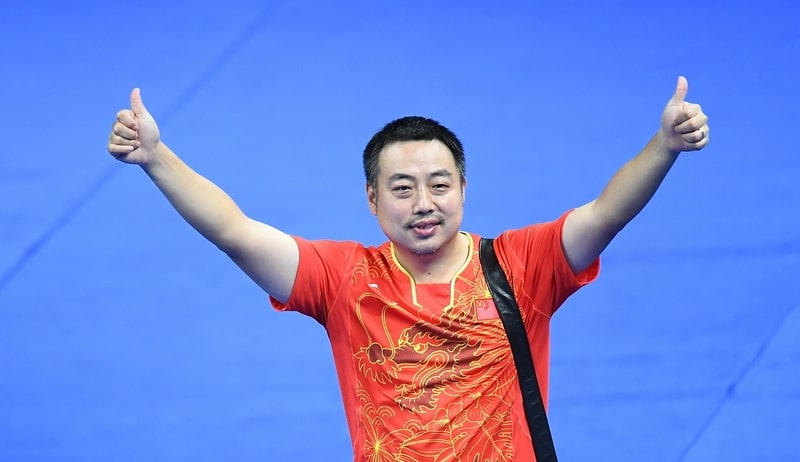 Liu Guoliang is one of the greatest table tennis players and coaches of all time.
Liu had won all the major titles in world tournaments, including World Championships, World Cup, and Olympic Games.
He is the second man to achieve a Grand Slam of 3 major tournaments.
Won 2 gold medals in the 1996 Olympics, men's singles title in the 1996 WC, World Singles Championship in 1999, and the World Doubles Championships in 1997 and 1999.
Liu announced his retirement in 2001 and was appointed as Head coach for National Men's team.
As a coach, he is the most successful by winning almost every men's singles title from 2001 to 2018.
Elected as president of the Chinese Table Tennis Association in late 2018.
2. Ma Long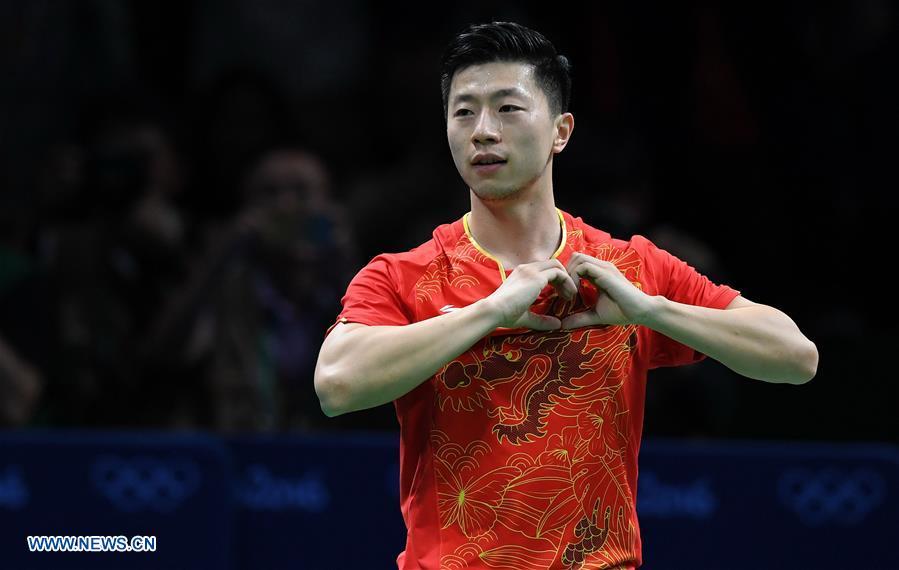 Ma Long is the current Olympics and World Champion by ranking as World No. 3.
Also had a record of holding World No.1 for 64 months which is the most by any table tennis player in history.
He has been the captain of the Chinese National Table Tennis men's team since 2014.
Ma Long is the best Chinese table tennis player right now. Won 5 straight ITTF World Tour tournaments in a row and 28 ITTF World Tour titles which is a record.
Became 5th player to complete a career in Grand Slam. The first male player in the world won every single title in the Table Tennis game.
1. Jan-Ove Waldner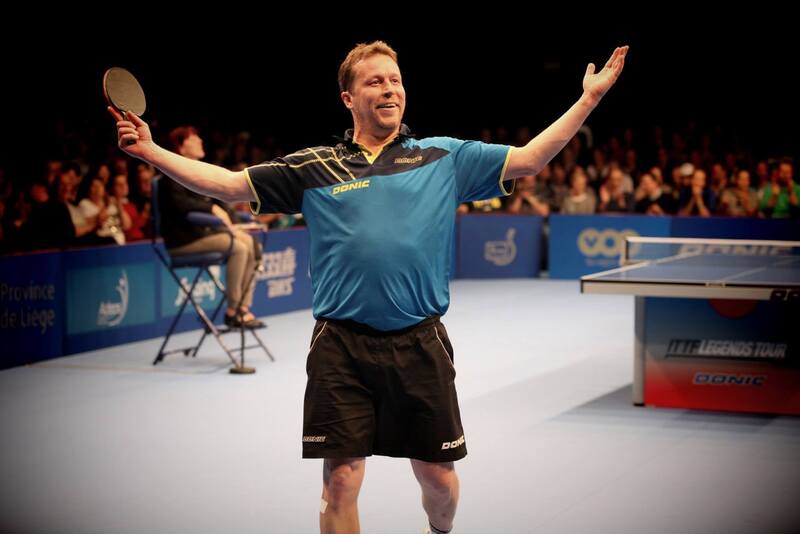 Jan-Ove Waldner is regarded by many as the best table tennis player of all time.
He is the most successful non-Chinese Table Tennis player termed as "Mozart of Table Tennis," and also called Lǎo Wǎ (Old Waldner) and Cháng Qīng Shù (Evergreen Tree) in China. 
The most successful non-Chinese Table Tennis player. Started his game in 1988 when he was 16 years old.
Won many Swedish Championships, European Championships, World Championships, and the Gold medal in the 1992 Olympics, and completed a career grand slam, one of the five players to achieve.
In the year 1992, he received the Svenska Dagbladet Gold Medal. Played his last game in 2016 and announced his retirement.