Taller players have a basketball advantage because their shots have less distance to dunk, get closer to rebound, and have a better chance to block shots. 
What Is the Average Height in the NBA?
In a 2007-08 survey of the players, the average player in a shoe is 6 ft 7 in (2.01 m) in the National Basketball Association (NBA). The average height for the shooting guards is 6'5″, small forwards 6'7″, power forwards at 6'9″, and centers at 6'11".
Although it can not be an NBA player and not be up to six feet high, it is usually helpful to be taller, and some players are 7 feet or higher.
To find out, here are the top 10 tallest NBA players ever:
4. Mark Eaton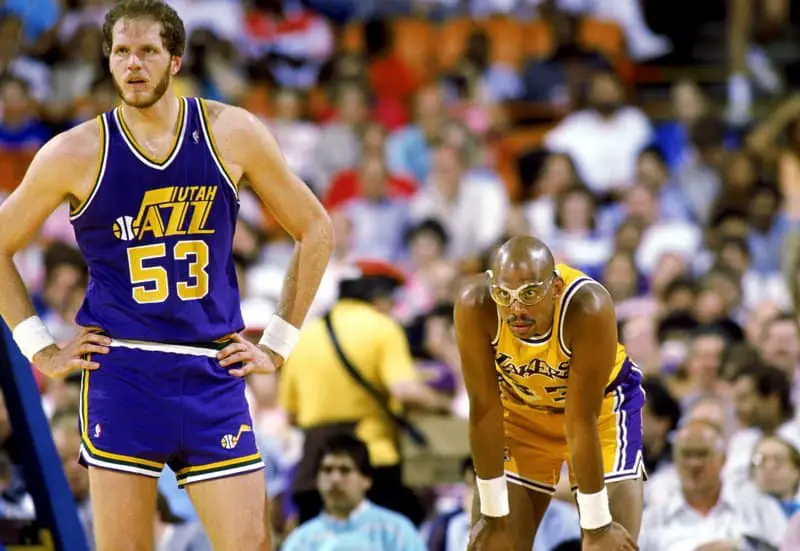 Height: 7 ft 4 in (2.24 m)
Weight: 290 lb (132 kg)
Mark Eaton is a former basketball player who has received many awards during his career.
Mark was 7 feet 4 inches tall, which helped him play basketball at a significant early age. Many team owners were eager for Mark to finish his graduation to include him in their teams.
In 1982, he debuted in the NBA after team Utah Jazz remarked on his skills.
Season after Season, Mark improved his skills and made a remarkable impact on the game as he grabbed a total of 595 rebounds and blocked shots 351 times.
During the third season, he broke many records and was honored with the NBA's Defensive Player of the Year.
During the last season, Eaton suffered from injuries and played only 64 games, and got retired.
Mark Eaton is famous for his impressive world record in blocks and is affectionately known among fans as the 'Blocked Shot master.'
His 456 blocked shots in one season(1984-85) with the highest career average of 3.50 block per game makes Eaton one of the best defensive players in NBA history.
3. Tacko Fall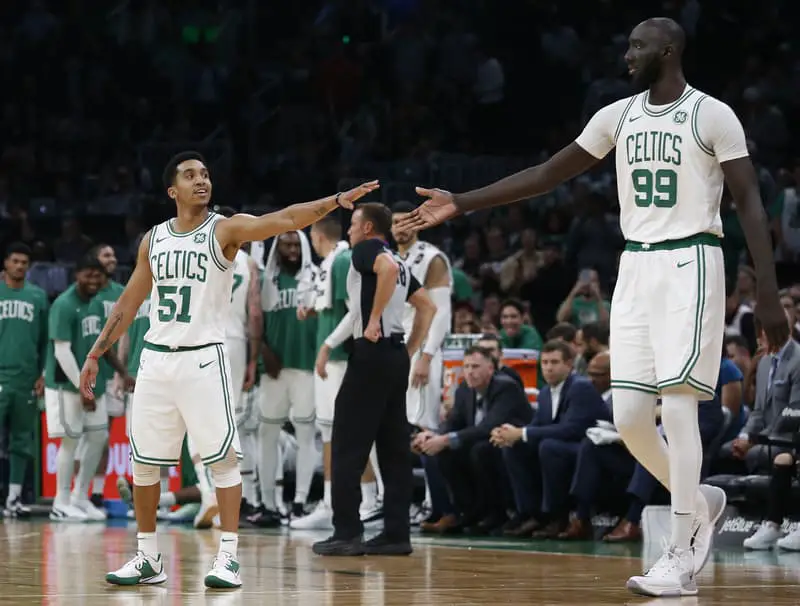 Height: 7 ft 5 in (2.26 m)
Weight: 311 lb (141 kg)
Tacko Fall is a Senegalese basketball player who plays for the Boston Celtics in the NBA and is the tallest NBA player currently (active in the sport).
Before his professional career, Tacko stood 7 feet 6 inches and obviously was the tallest basketball player in the school.
After graduation, he got selected for NBA G League Elite Camp in the year 2014.
In 2019, he was drafted by the team Boston Celtics, played for the NBA Summer League season, and scored six points against the opponent.
On his debut, he faced a match against New York Knicks.
In the NBA G League, Fall was the top player, and he was winning games for the team.
No doubt, Tacko has cemented his name as the best and tallest basketball player in the world.
3. Sim Bhullar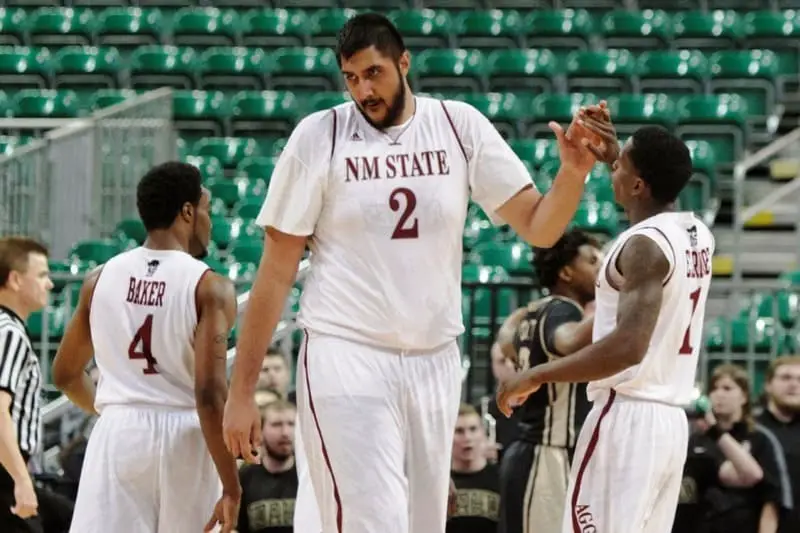 Height: 7 ft 5 in (2.26 m)
Weight: 359 lb (163 kg)
Sim Bhullar is one of the heaviest basketball players who currently play for Yulon Luxgen Dinos.
He is a professional player from Canada (and also the first player of Indian descent). During his college days, Sim signed to play for New Mexico but later got drafted by the Sacramento Kings.
After playing for two seasons, Sim was waived from the kings.
In 2014, he was acquired by the NBA Development League with Reno Bighorns as an affiliate player to the kings.
Then Sim made his debut for D-League and recorded 6 blocks and 4 points.
He made his historical record of 26 points and 17 rebounds while playing against the D-Fenders.
In 2015, Sim again joined the kings to play for NBA Summer League.
He could have been the current tallest basketball player in the NBA, but after playing only one game, he left the league to join the Canadian national team.
3. Pavel Podkolzin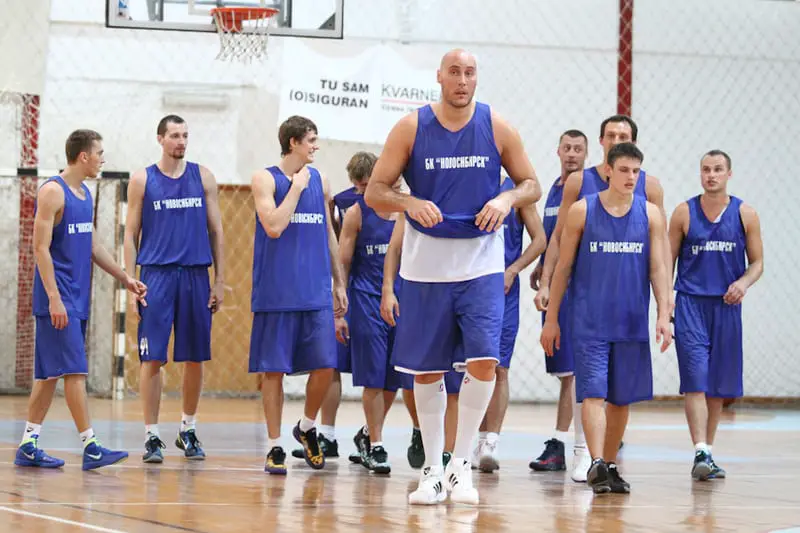 Height: 7 ft 5 in (2.26 m)
Weight: 305 lb (138 kg)
Pavel Podkolzin is a talented basketball player from Russia who played for NBA and the NBA Development League.
Fans were very much crazy about his height, as he was 7 feet 5 inches.
He made his debut with Lokomotiv Novosibirsk in the season 2001-2002.
Pavel signed with Metis Varese and played with the team for only two years.
In 2004, he signed an NBA draft for the team Jazz and moved to Mavericks in the NBA draft of 2005.
He was talented enough to get selected for the primary draft, but due to his pituitary gland disorder, he withdrew from the 2004 draft.
Pavel was considered for his ability to block strength and size and was very talented in playing the match.
He played for the Russian National team and won a silver medal at the European Cadets Championship.
3. Chuck Nevitt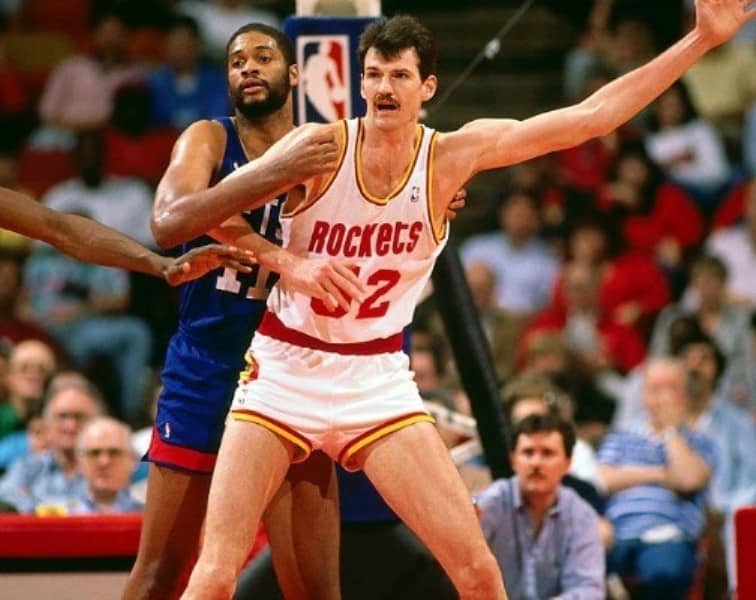 Height: 7 ft 5 in (2.26 m)
Weight: 217 lb (98 kg)
Chuck Nevitt is a professional player known for his exceptional height.
During his school days, Nevitt displayed good athletic skills. His friends encouraged him to make his professional basketball career.
Nevitt got selected in the NBA in 1982 for the team Houston Rockets, and he played a total of fifteen games for the Lakers team but later left the team for the Pistons.
Again Nevitt joined the Rockets team and appeared for the Michael Jordan Bulls team with ten days of the contract and played matches against the Spurs in the 1994 season.
Nevitt played for many teams, and due to undisclosed reasons, Nevitt has said never to reappear again for the NBA.
In NBA, he played nine years for the Houston Rockets, Detroit Pistons, Los Angeles Lakers, San Antonio Spurs, and Chicago Bulls from the 1980s and in the early 1990s.
2. Yao Ming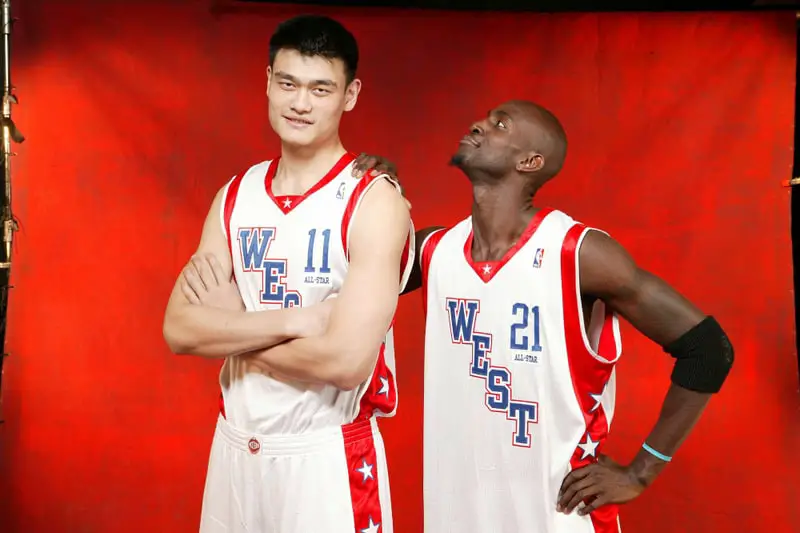 Height: 7 ft 6 in (2.29 m)
Weight: 310 lb (141 kg)
Yao Ming was the first non-US Chinese tallest basketball player in history to play for the National Basketball Association.
The commissioner of the NBA, David, stated Ming to be a talented and dedicated player.
His family got involved in playing basketball for the national teams, but Ming was not interested in becoming a basketball player, as he was completely engaged in reading history.
At nine, he was five feet tall, and the local sports officials suggested the young athlete join sports and play basketball for the country.
And in the year 2002, he played for NBA and was the first player to get selected for the United States without playing collegiate basketball.
Ming also took part in the FIBA World Championships in China.
He played in NBA, broke the records of Michael Jordan, and was also nominated for the Naismith Memorial Basketball Hall of Fame.
In the year 2011, Ming retired from basketball because of severe injuries.
Yao has averaged 19 points for his career, nine rebounds, and almost two blocks per game.
2. Slavko Vraneš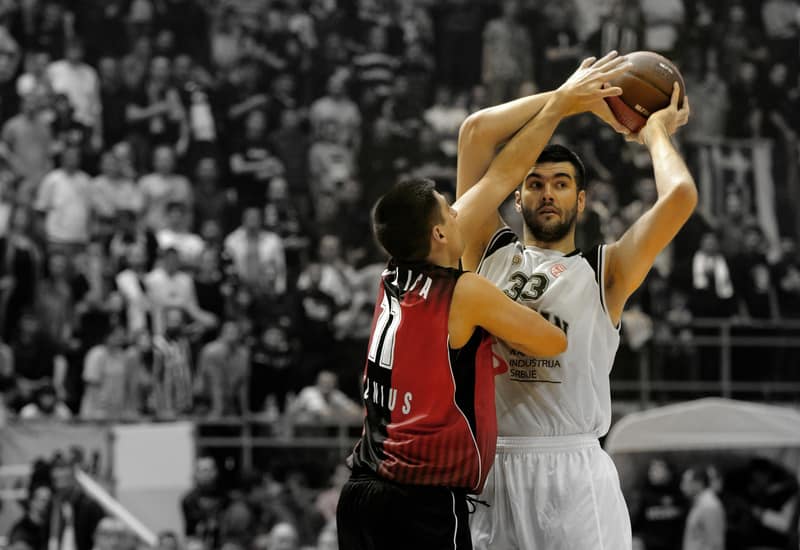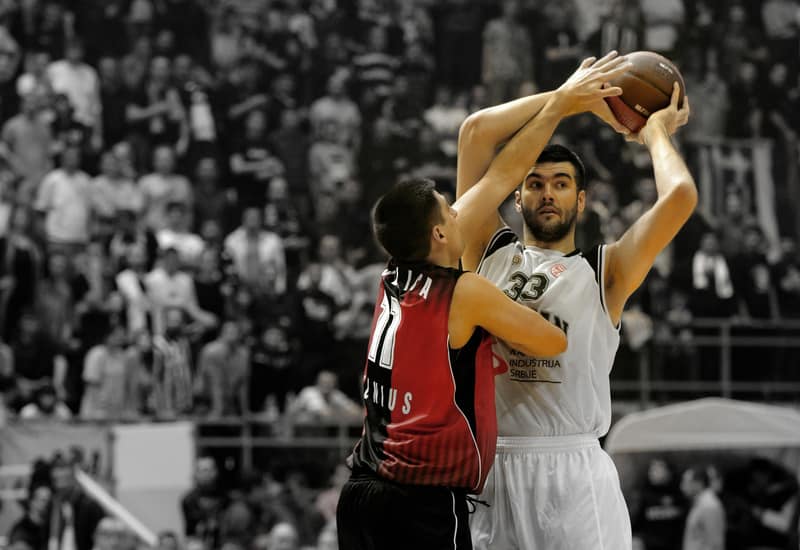 Height: 7 ft 6 in (2.29 m)
Weight: 302 lb (137 kg)
Born in 1983, Slavko Vraneš is a former basketball player who played for the team Ayandez Sazan Tehran and was one of the tallest NBA players in history.
Slavko was very talented, and at an early age, he played basketball in a Serbian club.
Because of his amazing skills, the Turkish club invited him to play in the basketball league during the 2000-01 season.
Soon after getting some NBA attention, his first game was on January 8, 2004, for Knicks, against the Minnesota Timberwolves.
Slavko got selected for the NBA in the second round during the year 2003.
But for some reason, he got out of the Knicks team, and later, he signed a contract for ten days with Trail Blazers.
He played only one match during the contract of the NBA season of 2004. After that, Slavko signed up for FK Crvena Zvezda, and later, he moved to play with the team Budućnost Podgorica for three years.
Being one of the NBA's tallest players, he started signing up the contract for various teams and won many team trophies.
2. Shawn Bradley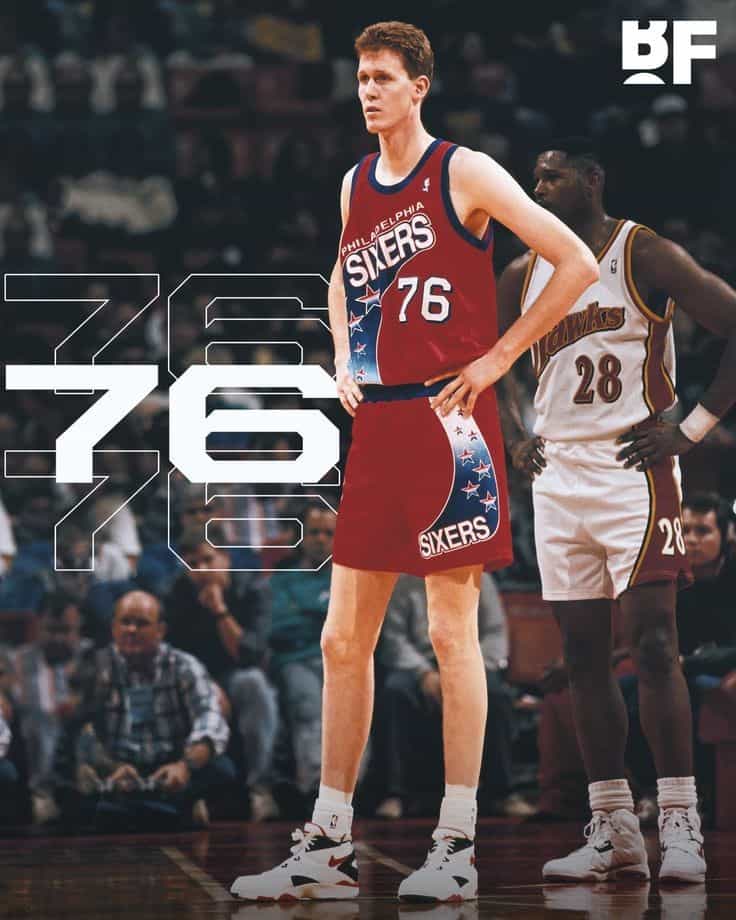 Height: 7 ft 6 in (2.29 m)
Weight: 275 lb (125 kg)
Shawn Bradley is a retired German-American basketball player who played for New Jersey Nets, Philadelphia 76ers, and Dallas Mavericks in the NBA.
Shawn was one of the first tallest NBA players of all time, and during his childhood days, his friends called him 'the enormous Mormon' for his exceptional height.
He was very famous during his school days and was also the first player to be listed among tall NBA players.
He won many basketball games and also won MVP awards.
During his college career at Brigham Young University in Utah, he played many tournaments, won trophies for the team, and Shawn was named the Freshmen of the Year.
Bradley started his professional career by joining the NBA, where he played for many teams under the Jersey number 76, which had been given by the Philadelphia 76ers.
Ok, so who was the tallest player in the NBA?
Two athletes, named Manute Bol and Gheorghe Mureșan, can be termed for the title:
1. Manute Bol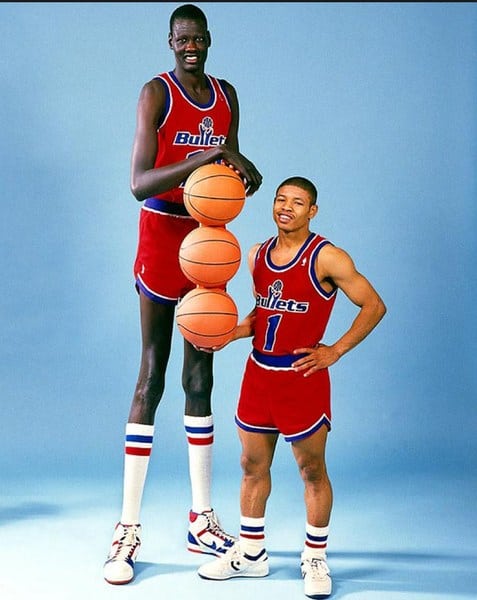 Height: 7 ft 7 in (2.31 m)
Weight: 200 lb (91 kg)
Manute Bol is a Sudanese-born American player.
As the name suggests, Manute means 'special blessing,' and he was named by his father. His parents were tall, and because of this, Manute was also born with tremendous physical height.
He first started playing football, but he was very tall, so he left the game and concentrated on basketball in Sudan.
Coach Feeley traveled from New Jersey to Sudan to provide the medical facility for the Sudanese team.
Feeley suggested Manute travel to the United States to play basketball.
After that, he landed in Cleveland, but because of his incorrect birth certificate and poor English skills, Manute was placed on probation.
He improved his skills by joining the institute, and at last, with the help of Feeley's influence, Manute started his career in the NBA and won trophies for the team.
In 1987, the bullets drafted up 5 ft 3 in the Muggsy Bogues (1.60 m) along with Bol, pairing for one season the tallest and shortest league players on the court.
He played for the golden state warriors twice, Rhode Island Gulls,
Philadelphia 76ers, Miami Heat, and Washington Bullets and was one time traded to the Denver Nuggets.
Bol was presented with a Manute Bol bobblehead on 27 January 2015 by the Golden State Warriors.
Currently, his son, Bol Bol, is also an emerging basketball player.
In one game of the Jayhawk, Jayhawk Invitational, Bol played for his under-15 Amateur Athletic Union (AAU) team KC Run GMC.
1. Gheorghe Mureșan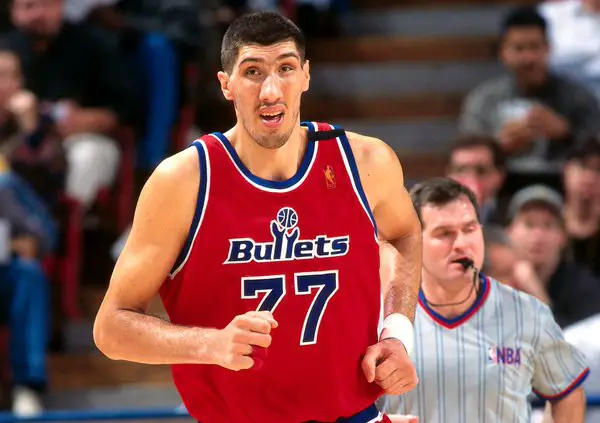 Height: 7 ft 7 in (2.31 m)
Weight: 315 lb (143 kg)
With a height of 7 feet 7 inches, Gheorghe Mureșan is the tallest basketball player ever to play.
Currently retired and is originally from Romania as his parents were of average height, but he grew to a great height due to a pituitary gland disorder.
Muresan was highly interested in basketball and played several competitive games in which he won the national championships.
He also won the French League cup in the year 1993, and in the same year, Muresan has selected for NBA.
He played many matches in the NBA as his promising career started from 1993 to 2000, and his best season was in 1996 when Muresan achieved 14.5 points per game.
And in the same season, he was named the NBA's most-improved player.
In his entire career, Muresan made 6.4 rebounds, 1.48 blocks per game, 9.8 points, 0.5 assists, and a 0.573 field goal percentage.
After ending his NBA career, he again won the French League at Pau-Orthez before returning to his family in the United States.
It was relatively convenient for him to block shots because of his tall body. Gheorghe is remembered for his 1995-96 season performance and had an average of 14.5 points, 9.6 rebounds, and 2.26 blocks per game.
The over-representation of huge basketball athletes establishes the theory that the sport offers a very significant advantage of being tall. This representation applies to WNBA players as well.